Enthüllung - Lege eine -Probe (2) ab. Erhöhe die Schwierigkeit dieser Fertigkeitsprobe um 1 für jeden Schaden, den du genommen hast. Falls die Probe misslingt, nimm 2 Horror.
"If they can catch the fleeing soul when it leaves the body, they instantly flutter away chittering in daemonic laughter…" H. P. Lovecraft, "The Dunwich Horror"
Frej Agelii
Das Vermächtnis von Dunwich #91. Ziegenmelker #4-5.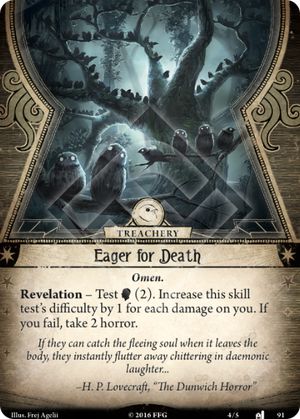 No review yet for this card.