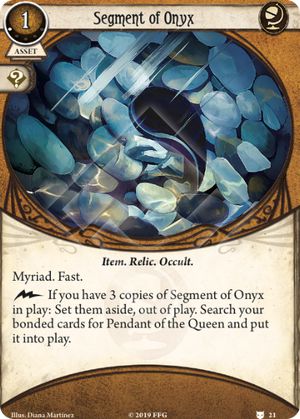 Too powerful card (even with +3 xp). why?
easy to collect: Deck tempo of most seeker is very fast. It means that it's not hard to find all three segments of onyx.
powerful ability: Pendant of the Queen has three ability, and all three are powerful

teleport: why Elusive is powerful and tabooed? I think you know the reason.
clue: you could detour high shourd or investigate penalty. Moreover, you can discover a clue at any revealed location. If your teammate reveal a location and you don't want to go there, you can discover clues at there only by pendant.
evade: Pendant's auto-evade works with elite enemy. (why? I don't believe.) Also, don't forget this is trigger ability. You can always chance to trigger between 3.2 and 3.3. This means that Pandent can evade any enemy ignoring any ready effect such as TNOZ BOSS.

easy to recycle: After you use all charges, all segments are shuffled into deck. If you make your deck thin, and use all charges. Then, you could replay your new Pendent very easily.