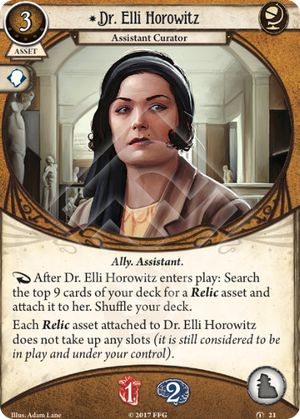 Norman Withers can play stupid games with this lady.
Namely, True Magick takes up neither hand nor arcane slots while under her control. He can place it on top of his deck for guaranteed tutor using his signature. Both his signature and True Magick can be tutored by Research Librarian.
Norman also gets to play dumb games like using Livre d'Eibon to place Enraptured on top of his deck, then Written in the Stars to place a load of charges on something while spending a whole turn investigating 6... something like True Magick.
With Astrological Atlas/Livre d'Eibon in play, you can get away with a serious amount of shenanigans recurring cards like Enraptured and Fearless. Eli holding True Magick, you can also get a giant Clairvoyance or Shriveling once a round only limited by what you've got in your hand, and Norman, being a Seeker, can draw like a beast.
This card is nuts on True Magick, and Norman is a great candidate for reaching both.
You can even add 2 sign magic 3 and sixth sense in play or something similar. —
Django · 3807