Vorteil. Arkan
Zauber.
Cost: 3.
Test Icons:
Anwendungen (4 Ladungen).
Gib 1 Ladung aus: Kampf. Dieser Angriff verwendet statt und fügt +1 Schaden zu. Falls während dieses Angriffs ein -, -, -, -, oder -Symbol enthüllt wird, nimmst du 1 Horror.
Brian Valenzuela
Grundspiel #60.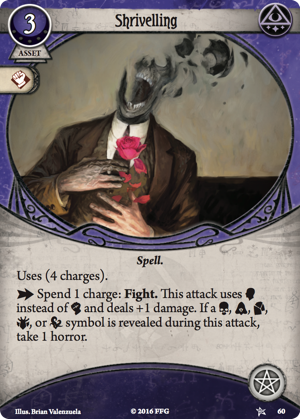 The "If a symbol is revealed..." effect triggers during Step 3 of the Skill Test Timing.
Last updated