Derived from
None. Self-made deck here.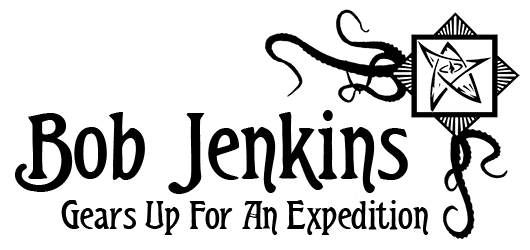 Our favorite wine-swigging salesman is at it again. His partner-in-crime Lily kept giving him a hard time for spending too much time assembling his traveling kit, and instead of taking her criticism to heart, he, instead, took this as a challenge. On their next operation together, while Lily was unhooking her Runic Axe and struggling to attach her empty vessel, Bob not only gave her a helping hand: He did so while dropping equipment that were now practically strapped to him.
Welcome to my latest take on Bob Jenkins, a I not only like in terms of theme, but, mechanically, I've always enjoyed the idea of his bonus action's multifunctional aid. My only real problem I've struggled with, until now, has been his tendency to feel like he was spending more time gearing himself up more than others; I mean, yes, thematically because of Greed, it makes sense, BUT! I think Bob's someone capable of sharing more while on-tour than he lets on.

I debated whether I wanted to keep a weapon on Bob, based on the fact that his free action gives him an incentive to stay on top of gearing. And while yes, he can make good use of certain higher-level rogue weapons, I feel that his tool options are going to make him a very multi-capable clue-fiend. Because of this, I advise that you insure that not only are you teamed up with a combat-heavy investigator, but that you are making sure Bob does his due-diligence in selling them excellent deals via his free-action.
Make no mistake, this not just a clue-snatching build. You are there to support the team on this expedition, and Bob didn't bring two backpacks just so he could waste time cycling them. Thanks to his shrewd dealings, Bob's about to become everyone's best friend. Something you need to assess is what your party is packing in their decks. If you notice that someone did not fill a certain slot or that they are not completely married to their choices, you will be presented with opportunities to sell them some complimentary goods.
While we can do well in a duo-arrangement, I feel like Bob's playstyle, here, will truly shine more in a three to four investigator team.

Let's go into some breakdowns about what makes my take on Bob fun, shall we?
Side-Note: I experimented with Short Supply on this deck, and I feel that, while it had its moments, I ultimately preferred not gambling both Joey & Shrewd Dealings, since we can't resource them back. You are welcome to go for it, if you enjoy that thrill, you crazy scavenger.

Your opening will seem daunting, because depending on luck, Bob's mileage will vary. You need a minimum of three Items to justify Geared Up, or else Bob will be reminded of that time he sneezed on his client, who happened to be Mark Harrigan, who happened to have a loaded Thompson, that day.
Here are my priority tenants for Bob's starting hand:
If you see Shrewd Dealings, keep it. This is the card that enables your team to love you.
If you pull Scavenging, keep one; don't keep two unless you have a Backpack.
If you have Joey "The Rat" Vigil, keep him around. If you have all three of these and two items, you might just have to eat a net-loss, knowing that you managed to get three most useful assets to get your engine rocking; this will rarely happen, but it's a good net-loss to have, in my opinion, especially since you're still going to give one friend a free play-action.
If you land a Backpack, first of all, stand up and start cheering at the table, since you're about to over-load yourself. Secondly, if you haven't mulled and you have more than three items but none of the above, take a gamble and see if you can land any of them. If so? Stand up and cheer again.
If you somehow got all four of these, then congratulations: Bobby Jay's going to have a hell of a time, tonight.
Fun mulls aside, you should rarely end up busting on these, since Bob's going to have 19 Items & 5 of the aforementioned high-value non-item assets to yank out. An example start I've had recently was a Backpack (which led to a Schoffner's, Testimony, & Tool Belt), a Keyring, Flashlight, Scavenging, and Friends. This meant that, with the exception of Scavenging and Friends, every single item was equipped on turn-one for the mere cost of 2 of my resources (spending all of Schoffner's to pay for the rest); that's six discounted play-actions + 1 free play-action to pass to someone else on turn one.

Here is the link to my level 0 take on this.
Please note: If you are uncomfortable with utilizing Charon's Obol, this is more-or-less optional. I do not believe it is necessary, as the build will feel assembled by the half-way-point, but if you are used to taking big risks, you will find yourself being quickly rewarded, and there is the opportunity to go for bigger-fish upgrades later.

If you have completed your core-set, you have full freedom to experiment with how you want to push Bob's Limits. My suggestion is to max out your Eon Charts for double-value, consider more perks for your two customizables ,and then pick up some fun utility-choices seen in my Side Deck section. A lot of the choices you make will come down to preference based on your party's needs. If you need more actions, feel free to slot Haste in order to get more investigates. If you have someone running some Winging Its or a fighter is about to venture-off alone, consider passing them a Skeleton Key to boost their chances of clue-gathering without you. If Bob feels like his party doesn't appreciate him enough, and you're packing loads of extra XP, consider buying a Gold Pocket Watch as the ultimate form of bribery.

I hope you have enjoyed my guide through this expedition. Bob's been a lot of fun to revisit, so much so that I gave him a test spin in two campaigns with this arrangement, both of which felt smooth, and the team could feel the influence of his support, even if they did say "I hate you" whenever I landed a killer opening hand resulting in 5+ assets being equipped at a sick discount.
Have fun, fellow investigators! This is a new format style for me, so I hope you enjoyed.