Derived from
None. Self-made deck here.
With an Axe and a Chainsaw, LumberWill Chops Enemies Down. With Careful Preparation and a Memento, LumberWill Finds Clues.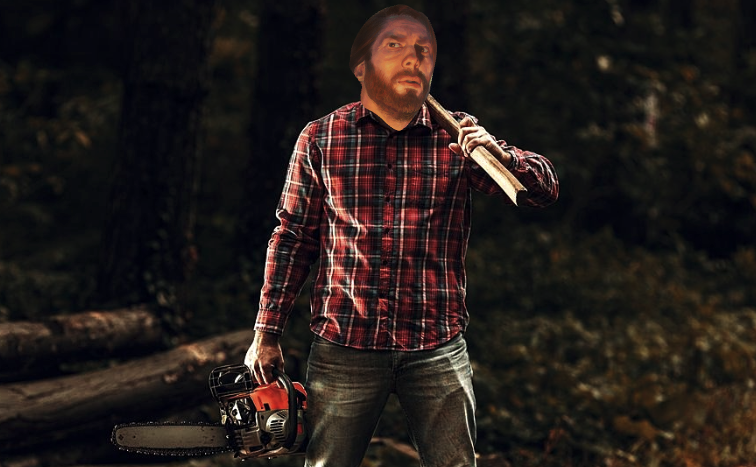 Credit: Results for Hipster Investigator on Google Image
---
Introduction
I always liked the idea of the Chainsaw but never could find a home for it, which was a shame because it's definitely S-Tier for theme and fun. So after having it as a card of the day on the Mythos Busters discord, it was time for me to accept the challenge and try it out. The results were beyond expectations with my 4th Yorick deck!
---
Following the success of the 20k Series and the 30k Series, the 40k Series will display the last decks of the series, which I hope everyone enjoyed!
Click here to see all the previous decks. I will keep releasing a new standalone-ready deck concept every week on Friday, so stay tuned and keep supporting the Series by pressing the ♥ button if you want to see more!
---
Table of Contents:
Overview

Main Strategy

"Enemies are like trees. Better chopped in pieces than standing in your way."

Out in the Woods with Nothing but a Memento and Your Pup

A Good Logger is a Smart Logger

Other Cards

Upgrade Path
---
Overview:
 
Difficulty:
★★☆☆☆
Enemy Management:
★★★★☆
Clue-getting:
★★★☆☆
Encounter protection:
★★★☆☆
Survivability:
★★★★★
Economy:
★★★☆☆
Card Drawing:
★★★☆☆
---
Main Strategy:
---
"Enemies are like trees. Better chopped in pieces than standing in your way."
You don't always have to fight against enemies. If you only need to deal one damage and can afford it, a move action will trigger an attack of opportunity on your dogs which can finish the enemy or save a precious Chainsaw supply.
Overall, it takes a bit of juggling, but with a hard mulligan for a weapon, Prepared for the Worst or At a Crossroads, and Short Supply having high chances of placing a weapon in your discard pile, you should be able to get one on the board early and then Emergency Cache and Schoffner's Catalogue finance your cycling.
---
Out in the Woods with Nothing but a Memento and Your Pup:
The life of a LumberWill can sometimes feel lonely, so what's better than a pupper to stray from the path with?
Guard Dog plays many roles in this deck:

Free engage actions

Damage/Horror soak

Aggressive tempo acceleration for the final damage

To supplement the dog, we opt for a Precious Memento that heals damage upon big successes.

Thanks to Well Prepared, the deck will oversucceed regularly, giving you a free damage heal per turn.

If you need to, you can always load the Memento and cycle it with your ability, though it is better to do this with the dogs.
You may ask: "Why not use the one that heals the horror instead?"
The reason is that Plucky (3) and Guard Dog will also absorb a little bit of horror, and you don't want to deal more than one damage at a time on the Guard Dog or lose your Plucky (3) to a single damage. Furthermore, it is far cheaper to spam your to recycle Plucky (3) than Guard Dog.
---
A Good Logger is a Smart Logger:
Because the game is a race against the clock, being able to scoop clues when there are no enemies can really make a difference.
Well Prepared can target both Precious Memento or Plucky (3) for 2 times +2 each turn.

Plucky (3) will give you a static boost, bringing you to 3 skill values, and offers you the possibility to sink some extra resources if you can afford it.

The deck will feel low on resources at the start, but especially with Act of Desperation, it is easy to reach 10+ resources by half-game.

The situation can change rapidly, so always keep some resource security and some secrets on a Schoffner's Catalogue if you need to recycle a weapon or a Guard Dog, as they are pricy.

Don't forget Lucky!, which will also save you a few failed investigations here and there.

---
Other Cards:
Upgrades:
---
Upgrade Path:
---
---
---
---
To create your own guides, find the template I have created here