Ermittler
Zauberer.
Willpower: 5. Intellect: 2. Combat: 2. Agility: 3.
Health: 6. Sanity: 8.
Nachdem 1 oder mehr Horror auf Agnes Baker platziert worden ist: Füge einem Gegner an deinem Ort 1 Schaden zu. (Nur ein Mal pro Phase.)
-Effekt: +1 für jeden Horror auf Agnes Baker.
"Ich erinnere mich an ein anderes Leben - voller Zauberei und Eroberungen."
Magali Villeneuve
Grundspiel #4.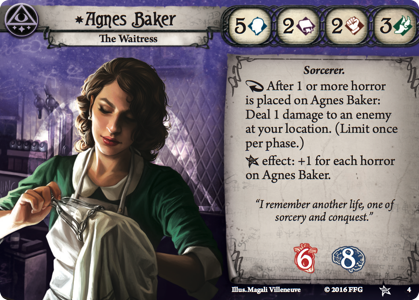 Ermittler
Deckgröße: 30
Deckbau-Optionen: Mystikerkarten () Stufe 0-5, Überlebenderkarten () Stufe 0-2, Neutrale Karten Stufe 0-5.
Deckbau-Voraussetzungen (zählen nicht gegen die Deckgröße): Erbstück aus Hyperborea, Dunkle Erinnerungen, 1 zufällige Grundschwäche.
In diesem Leben war Agnes Baker vielleicht eine einfache Kellnerin, aber in einem früheren Leben, in einer Zeit, die man in der modernen Weit nicht einmal für möglich halten würde, war sie eine mächtige Hexe. Es hatte angefangen, als sie unter den verstaubten Besitztümern ihrer Familie auf dem Dachboden dieses merkwürdige Artefakt fand - eine Art Schlüssel. Als sie ihn berührte, wurde sie auf einmal von Erinnerungen überflutet und da war dieses Wort: "Hyperborea". Je tiefer sie in ihre Visionen und Erinnerungen an ein früheres Leben eintauchte, umso stärker wurden ihre Kräfte … und umso mehr Angst bekam sie.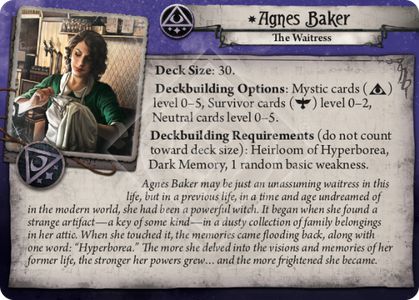 You cannot use Agnes' ability if you assign horror to an asset.
Last updated
Can I play with Agnes?
Give me the sense to wonder
To wonder if she's free
Give me a sense of wonder
If they've picked her before me
Give me the strength to hold my hand out
And pick that youthful face
Don't need xp to unlock this deck
Gonna play through it all
Break me into that bad place
[Chorus]
Can I play with Agnes?
She'd look so cool with a crystal ball
Can I play with Agnes?
Her evasion's rather small
Can I play with Agnes?
The players looked at me and laughed at me (ha ha) they said:
Can I play with Agnes?
Use blinding light, its fine, you`ll seeee
Woah, they said use blinding light you`ll see
I stared hard at the encounters
I said I'll Scry, I'll see whats below
We can prepare for this mischief
For two cards and the next
Oh then I fixed them with a freezing glance
You could see the fear in their eyes
I said you wanna know the truth son?
Well I'll show you the truth
Its an agility test needing five or higher
[Chorus]
Listen to me, said the players
[Chorus]
Can I play with Agnes?
Jesus, that is beautiful! —
lukas · 14
Can I hit the like button multiple times please? —
m3Ss1 · 1
Awesome Iron Maiden reference! —
Felagund · 441
Great. Now I gotta record a cover song and blast it everytime somebody pulls out an Agnes deck. —
H0tl1ne · 20
Thank you so much for this work of art! Up the Irons. —
humbas · 13